On the photo: Syrian Mujahideen near the Iraqi border
Few days ago the media reported that the Syrian rebels were able to repel the Alawi gangs away from two military facilities near the city of Al-Bukamal (see map) near the Syrian-Iraqi border.
One of the opposition commanders Abu Mahmoud said that as a result of fierce fightings, which lasted for a week, formations loyal to Assad fled compounds, which used to house Alawite air force intelligence and political security, writes UmmaNews.
However, according to the opposition, "the regime troops continue to hold the compound of military intelligence and the airport of Al-Bukamal".
Meanwhile, according to CIA monitoring referring to Islamic sources, the Syrian Mujahideen helped rebels to force out the remaining Assad's gangs in Al-Bukamal.
According to the first report, Islamic fighters seized three armored vehicles and a number of different weapons in the town.
According to the second report, the Mujahideen opened fire from anti-aircraft guns, forcing Assad's planes to leave.
It is to be recalled that in the last month, the media informed about the capture by Syrian rebels of the checkpoint Bab-al-Hawa (see map) on the border with Turkey. Later it turned out that the checkpoint had been taken over by the Syrian Mujahideen. The corresponding video clip was posted on YouTube on July 19.
It is to be noted that the data confirm the reports regarding the beginning of a merger of opposition Free Syrian Army (FSA) with the jihadist movement. Some of the FSA units have already swore allegiance to Emir of Mujahideen of Jabhat al-Nusra, or Victory Front.
Meanwhile, Jabhat al-Nusra is increasingly publishing official reports about the operations, that means strengthening and enhancing of the organization in Syria. The scale of its attacks is growing.
One of the most impressive operations were 4 martyr attacks, resulting in killing of near 1,000 Alawites from Assad's army and gang formation Shabiha.
The first martyrdom operation was carried out at a check point Al-Bara in the Jabal al-Zawiya (see map ) - as a result of which over 100 military Alawites were killed.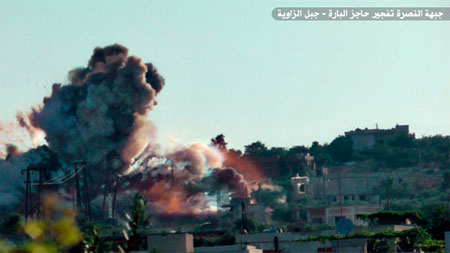 The second martyrdom attack hit the road checkpoint on the highway Khan Seyhun, the martyr killed up to 150 Assad's militants here.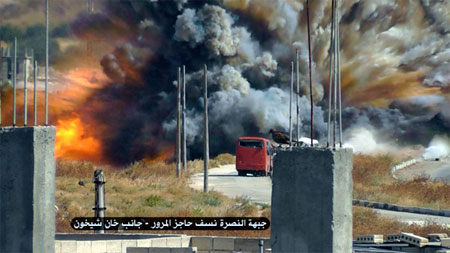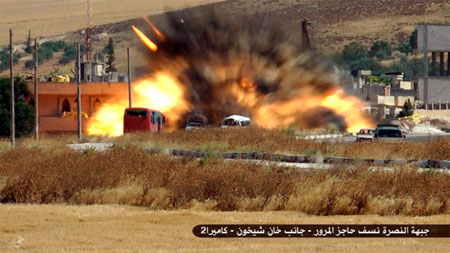 Third martyr (Insha'Allah) attacked the checkpoint Babila near the town Maarret Al-Nuaman (see map) - elimination about 60 military Alawites.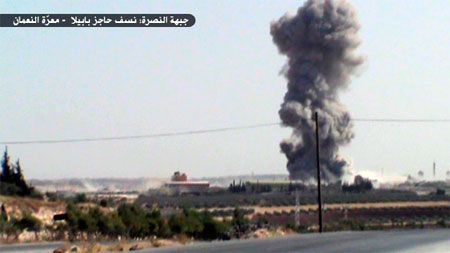 The fourth martyrdom attack was a retaliation for the massacre in the Syrian village Tremseh where raging Alawites killed more than 200 Muslims. Mujahideen detonated a powerful bomb at the time of the greatest concentration of members of the Alawite gangs - from 400 to 600 of polytheists were reportedly killed.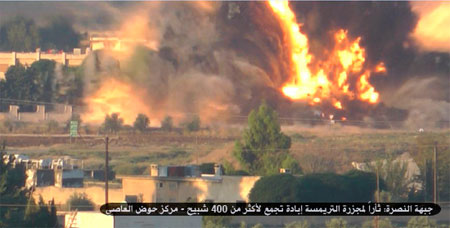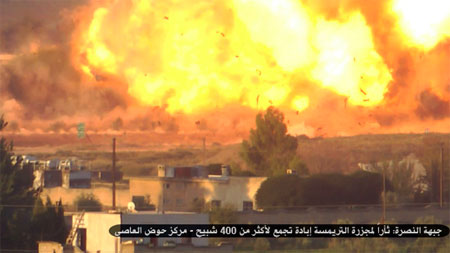 Department of Monitoring
Kavkaz Center