Sources in Libya report that a rally has been held the city of Kafra, demanding from Russia to release from captivity an Arab Mujahid, Emir Abu Khalid. The Emir, a Qadi or Islamic Judge, in the CE Province of Nokhchicho (aka Chechnya/Ichkeria), has been earlier imprisoned by Russian invaders.

Emir Abu Khalid al-Libi (aka Suleiman Osman Azzwei) is a Libyan native. He has been participating in the Jihad for 24 years.
It is to be recalled that in spring 2012, the Caucasus Mujahideen decided to send Emir Abu Khalid abroad, due to serious illness which required hospital treatment. However, he was captured by the Russians during his voyage.

The CE Mujahideen commanders learned that Emir Abu Khalid had been subjected to severe tortures in captivity. As a result of sophisticated tortures, his physical condition worsened, and mental disorders also appeared.
Attention is drawn to the fact that Russian invaders are still silent about the capture of Emir Abu Khalid.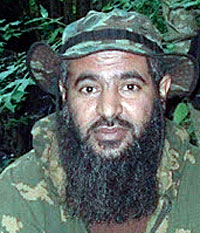 Meanwhile, the protesters reminded Russia that Russian mercenary snipers, captured by Libyans during the uprising against the Gaddafi regime, were not exposed to any violence and are treated well, despite the fact that they fought on the side of Gaddafi and killed Libyans.
This policy of Moscow is objectively pushing Libya to ask for military assistance from the Caucasus Emirate, reports the Libyan press which widely covered the rally in Kafra.

The participants of the action brought banners with their demands to Russia, as well as photos of the Caucasus Emirate Emir Dokku Abu Usman and other Caucasian commanders, and Lybian flags.
The rally was attended by a son of Emir Abu Khalid, Abdul Khakim Suleiman, who arrived in Kafra from Turkey, as well as by friends, relatives of Abu Khalid, and city officials.
 
The rally was widely covered by the Libyan media.

PHOTO REPORT:




***




***




***




***

Department of Monitoring
Kavkaz Center